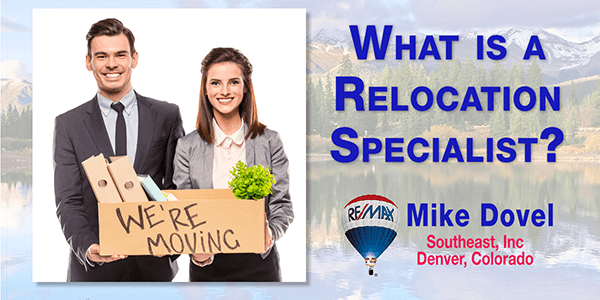 There is a difference between being a Realtor and a Realtor with the designation of Relocation Specialist. In order to receive this designation, I had to commit several additional hours and coursework required above and beyond that for a Realtor.
As a relocation specialist, I take into consideration:
Job location
Commuter needs
Academic needs (school district information)
Neighborhood match
Regular hobbies and enjoyed activities
Home financing
Vendor support (utilities, moving company, etc.)
Religious considerations
Housing prices
Demographics
Day care needs
Answering questions
Handling paperwork and support with the relocation company
and much more
I begin by establishing trust. I do this with an interview where I get to understand you and your family, your needs and desires and the reason(s) for the relocation. Because of my extensive knowledge of the Denver Market for the last 24 years, I am able to speak about the areas of town I believe are going to fit you. We can discuss the schools if needed, the resale value, the future projections and more. This will help you and your family understand where you want to begin to look for your new home, whether it be a short term relocation or a permanent one.
As a relocation specialist I help to create the expectation to match what you want and with the reality of what greater Denver has to offer. For example, someone relocating from Vermont, might not understand the relative newness of Colorado, nor the differing architectural styles. They may want a Cape Cod style home, and they won't find that here, so we get clear about any concerns before we begin the home search. Some families may be mesmerized by being so close to the Rocky Mountains and think they want to live there, but once we discuss budget, commute and snowfall, the expectations begin to shift into what is the best fit.
Together we look at budget in comparison to the needs and wants we have discussed and begin to compare that to my online system. This will help you see what their budget can buy. This is one of the biggest shifts people need to make when they relocate to Colorado, as our home prices are very different to other areas of the country. Some homeowners from California and New York City may be surprised by how much they can get while others are disappointed, that is, until I show them the home that really meets their needs. My role is to help the family to find the best compromise, when one is needed.
I also assist you in finding a moving company, setting up your utilities and getting to know the area and finding new connections and resources. There are things you may need to understand about the Colorado lifestyle, and I am here to answer any and all of those questions.
Moving can be a high stress situation, but I work hard to make sure you and your family is excited, happy and comfortable in your new home and city. It's what I love to do- setting you up for success in this beautiful city I call home.
If you would like to learn more about the areas of Denver, including the school districts and homes that will best fit your lifestyle, contact Michael Dovel of ReMax. Michael is a Colorado Relocation Specialist and he not only listens to what you are wanting in your new home search, but also what your true priorities are so he can match you to the area and home that will reflect your values and create long term satisfaction. If you are moving to the Colorado area, contact Michael Dovel with ReMax today! 303.888.6489